New Store Coming to Warner Robins June 8, 2023!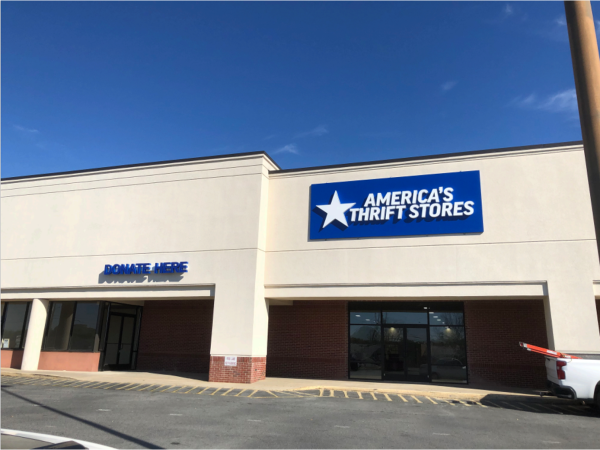 Location: 814-B Russell Pkwy Warner Robins, GA 31088

JOIN BEFORE THE RUSH! SIGN UP TODAY!
Join our Rewards Program before opening today to get instant rewards! Our Rewards Program is accessed through America's Thrift Stores member portal, where you can keep track of your purchases, offers, and points! Let's take a look at the benefits…
1 point for every $1 spent
Redeem $5 off for every 100 points collected
Free birthday reward
Exclusive promotions, like double points weekend & more!
NOT YOUR MAMA'S THRIFT STORE
We refresh each of our stores with over 10,000 unique items every single day, which is where we got the tagline "Where it's a new store every day." It's because it's true! But don't let that overwhelm you.
We keep our floors organized down to the department, category, type of clothing, and even size so you can discover more on your visit. Looking for candle holders? We have a section for that. Looking for a serving platter? Yep, we have a section dedicated to that too.
Hunting for a treasure is exciting, but finding a treasure is easily the best part about thrifting at our stores. With one of the largest donation networks in the South, we have that special item for everyone… It's just waiting to be found!
MAJOR SAVINGS, ALL THE TIME
Save more on our huge selection of women's, men's, children's, and baby clothing, all at incredible discounts, most times up to 70% off retail! We're constantly adding new items so we've got to make room for them. That's why we keep prices low from day one. No need to wait for a sale at America's Thrift Stores!
Stop in, and save every day of the week. Plus, we offer daily discount color specials, seasonal sales, Monday senior citizen discounts, Wednesday military discounts, and Thursday education discounts. But that's not it… really maximize the savings by taking advantage of our Rewards Program!
Find affordable, fresh fashion for every season without breaking the bank, and you'll also help keep our planet green by shopping sustainably.
YOUR DONATIONS IMPACT GEORGIA KIDS
Every donation made with America's Thrift Stores in Georgia results in a contribution to Children's Healthcare of Atlanta. A not-for-profit organization, Children's is the largest healthcare provider for children in Georgia and one of the largest pediatric clinical care providers in the country. Your unused clothes and home goods can help change kids' lives when you donate with America's Thrift Stores!
We are hosting a clothing and home goods donation drive at our new store on May 20th & 21st from 10AM EST – 5PM EST, benefiting Children's Healthcare of Atlanta. Donate and be entered to win $100 to our stores!