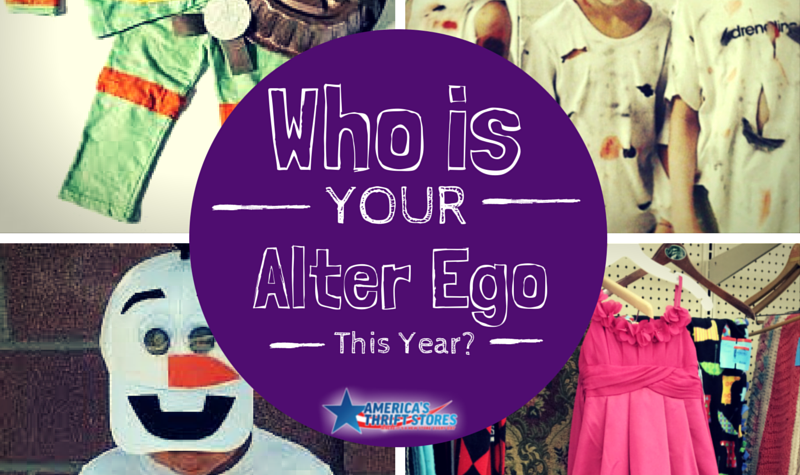 What's Your Thrifty Character?
Posted on October 20, 2014
Trying to decide what to be for Halloween can be a hard decision. There are so many great characters out there along with many pre-packaged costume choices. Sure, those packaged costumes would be an easy fix, but why not create your own? Put a new spin on who you want to be and let America's Thrift Store help you become your favorite character this Halloween.
---
Olaf (from Disney's Frozen) – "Do you wanna build a snowman?"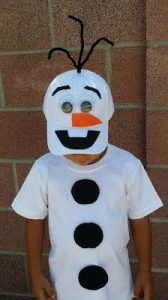 America's Thrift Stores Shopping List:
White shirt and hat or white hoodie
White paints
Craft Store Shopping List:
Black Pipe Cleaners
Black felt
Orange Felt
Large google eyes
Directions: Cut large, round "buttons" out of the black felt and attach them to the shirt with either glue or sewing material. Use the orange felt to cut out the carrot nose. Use the black felt again for the eyebrows and mouth. Attach the nose, eyebrows, mouth and google eyes to the hat or top of the hoodie. Attach 3 pipe cleaners to the top of the hat or hoodie. For a bonus effect, attach sticks to your arms. Just be careful holding that pumpkin pail!
---
Zombie – The Walking Dead has taken the nation by storm. Becoming a zombie is easier than you think.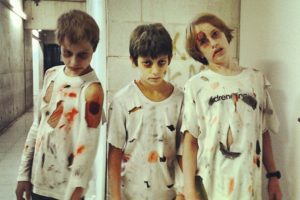 America's Thrift Stores Shopping List:
Long sleeve shirt
Pants
Face Paint
Directions: Using scissors to begin the tear, rip the bottoms of the pair of pants and shirt and then add some dirt and a few wrinkles. Use the face paint to make your favorite Zombie complexion. Don't forget to us the dark makeup under your eyes for that extra "Night of the Living Dead" look. Bonus: use the red paint to add some cuts and scars.
---
Teenage Mutant Ninja Turtle – Become your favorite "hero in a half shell!"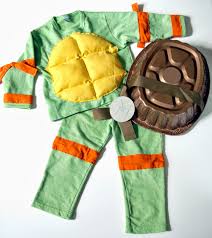 America's Thrift Stores shopping list:
Pair of green pants
Green long sleeve shirt,
Disposable roasting pan
Optional: Toy ninja weapon of choice
Craft Store Shopping List:
Ribbon of your favorite turtle
Green ribbon
Yellow cloth or felt
Can of brown spray paint.
Directions: Cut a circle out of the yellow fabric and attach to the front of the green shirt and attack it with a hot glue gun, or needle and thread (optional: stuff it using quilt padding for a 3D effect.) Use a fabric marker and create the ribbing on the stomach. Spray paint the roasting pan brown and attach the green ribbon to each side to be able to wear as a shell backpack. Cut the brown cloth into strips for the arms, legs and belt. Finally, cut eye holes in the ribbon and put the outfit together. For a bonus, add your favorite ninja toy, just don't use it to get extra candy.
---
Princess – What girl doesn't dream of being a princess?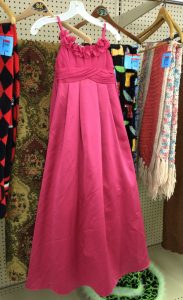 America's Thrift Stores shopping list:
Pageant, bridesmaids or flower girl dress
Directions: We feel this is pretty self-explanatory. Add a tiara and a pair of white gloves to feel even more royal. And remember to use that royalty to get a few extra treats while trick-or-treating. Bonus: create your favorite Disney Princess by picking out the right color. For example, this dress would be perfect for a little Aurora.
America's Thrift Store is your creative Halloween Headquarters! Find a location and visit us today!
Have you made creative Halloween costumes in the past? Share your tricks with us on Facebook! Send us a message on our Facebook page with a picture, how you made it from idea to finished product.  We'll post our favorite ones on our Facebook wall!
*Please note that by submitting a picture, you are granting America's Thrift Stores to post your entry online.
** Olaf courtesy of Pinterest. Zombie courtesy of DIY fashion.  Teenage Mutant Ninja Turtle courtesy of thescrapshoppeblog.  Bridesmaid dress located in our Prattville location. 
SAVE 10%
TODAY
by signing up for our e-newsletter!