Thrifty Tailgate Fun
Posted on September 19, 2018
For some people, Fall means pumpkin spice, leggings, or maybe just a lot of raking. For our family? It means it's time for college football!
One of the most fun parts of football season is having people over to watch the game. But tailgating, even in your own backyard and home, can easily get expensive and overwhelming. It doesn't have to be!
I recently took a trip to the America's Thrift Store location in Gardendale to find some items I could jazz up for a tai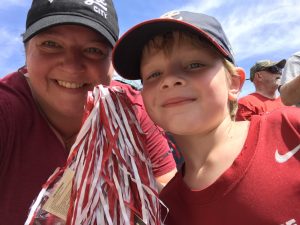 lgate party without breaking the bank. As a working mom, I don't have a lot of spare time, and I am not one of those super-crafty moms (who are amazing, by the way!), so I was looking for stuff I knew I could handle.
I found a couple of food containers that would be awesome for a party. A chip-and-dip is a great go-to for a variety of small food items, and a red one is perfect for us Crimson Tide fans. I also picked up some Mason jars (because who doesn't love a good Mason jar?) and some coordinating table cloths.
I think my favorite piece was a plain, white ceramic serving bowl. I had some ideas for how to liven it up, including adding some decorative ribbon or painting it. I ran by a nearby craft store and grabbed some paint, paintbrushes and stencils (and used a mobile coupon for 40% off!).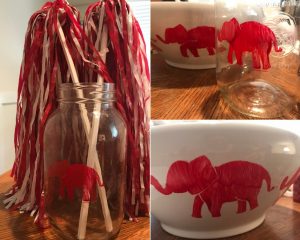 It only took me about 20 minutes total to use the stencils to paint elephants on the jars and the serving bowl, but that short time took them from plain to festive. One of the great things is that it doesn't matter which team you root for — you can take this same concept and create something fun, easy and inexpensive!
Of course, if you're having a tailgate party, you gotta have food. My favorite way to handle food is potluck, because then you don't have to have the burden
of hosting and preparing a multi-course meal for your guests.
Here's a go-to recipe that my family loves and that's always a big hit with a crowd, without a lot of fuss or prep time:
Bacon Cheddar Ranch Dip
Prep time: 10 minutes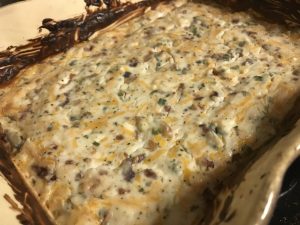 Cook time: 30 minutes at 400F
Ingredients:
1 package of real bacon bits
8 oz. of cream cheese, at room temperature
16 oz. of sour cream
2 cups of shredded cheddar
⅓ cup of sliced, green onions
1 package of ranch seasoning mix
Directions:
Mix all the ingredients together until they are well combined. Put the mixture into an oven-safe dish and heat at 400F until the mixture is bubbly and beginning to brown on top. Remove from the oven and serve with chips, veggies or crackers.
Of course, you'll need to plan a quick grocery run to grab all the ingredients, but you can find just about everything else you'll need (including awesome team gear, — I grabbed four new-to-us Bama shirts for my husband, my sons and me) all at the thrift store.
Hope you all enjoy this recipe and that you're able to spend some time with your friends and family this football season!
Written by Misty Mathews 
SAVE 10%
TODAY
by signing up for our e-newsletter!