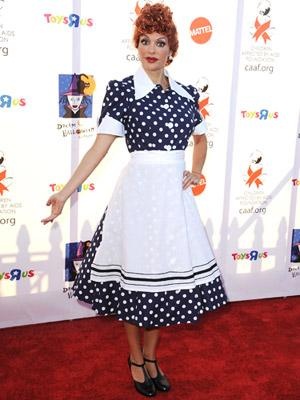 I Love Lucy
Posted on October 7, 2015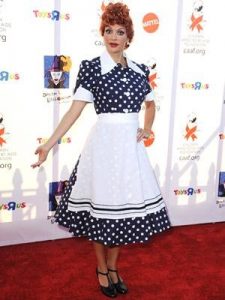 Remember the episode where Lucy got into some hi jinks and then tried to figure a way out?  Oh, wait.  That's every episode!  Well, you don't need hi jinks to become your favorite TV character.  You can become your favorite comedienne with just a few items from one of our locations.
Next time you're shopping with us, check out the ladies dress section and see if you can find a polk-a-dot dress.  If none are available in your size, see if you can find a plain navy dress (all it takes is a little white fabric paint and a circle sponge brush to turn it into a costume!).  Also, scope out the ladies's shirt section and find a white button down shirt you can wear under the dress.  Then, skip to the shoes and housewares to find some Mary Jane's and a white apron.  Don't forget the accessories: peal necklace, pearl earnings, and a bangle or two. Finally, visit one of our Halloween Hubs for a great wig.  Put it together and you have a great I Love Lucy costume for under $15!
Need more creative costumes?  Check out our other Be Original inspirations!
SAVE 10%
TODAY
by signing up for our e-newsletter!