Holding Out for a Hero
Posted on October 13, 2015
What defines a hero?  Is it someone with super natural powers?  Is it someone who sacrifices for others?  Is it someone who wears a cape?   Whatever your definition of a hero, you can easily and inexpensively create a one-of-a-kind costume with thrift store finds!
---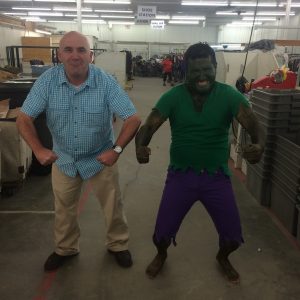 1. Superhero – We challenged our Pell City location to come up with a superhero costume.  They showed us their inner Hulk with this one!  One of our employees took a pair of purple pants and a green shirt and ripped the bottom of each.  He then covered his body with green paint and for under $5 total – he had an amazing costume!  As you can tell, he definitely got into it!.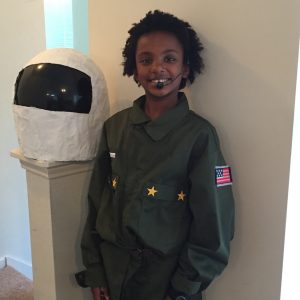 2. Military – Our troops are our heroes!  This is why we offer a discount to all active and retired military personal and their families every Wednesday.  How better to show your appreciation than to dress up as a military personal for Halloween.  From hats and helmets to uniforms and suits, we can outfit you as any branch of the military you prefer.  Check out this example from our thrifty treasure contest we had this past year.  Jasmine created this look from items found in our Tuscaloosa location.  She writes, "We bought a like-new painters outfit from the men's section, a belt for $0 .99, a pair of black shoes for $3.99, a black watch for under $5, a bag of headbands for less than a dollar and a metal thing to shape into a headphone type thing so she'd look the part. We even found a pack of bridal shower balloons to help us make a paper mache astronaut helmet. Then we bought some iron-on patches from another store to put the finishing touches on her astronaut outfit."  Find out more about this outfit here.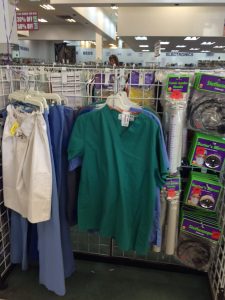 3. Professionals – We have people in our lives each and every day who look out for us and keep us healthy.  That's right, we're talking about doctors and nurses.  It's easy to become your favorite health professional.  We have a great stock of scrubs and even a lab coat or two.  Check out our Halloween section for accessories like a stethoscope or large inflatable syringe.
Have you ever created a hero costume, or any costume, from thrift store finds?  Enter our Be Original Costume Contest for a chance to win a shopping spree from America's Thrift! 
Need some inspiration?  Check out other great ideas here.
SAVE 10%
TODAY
by signing up for our e-newsletter!