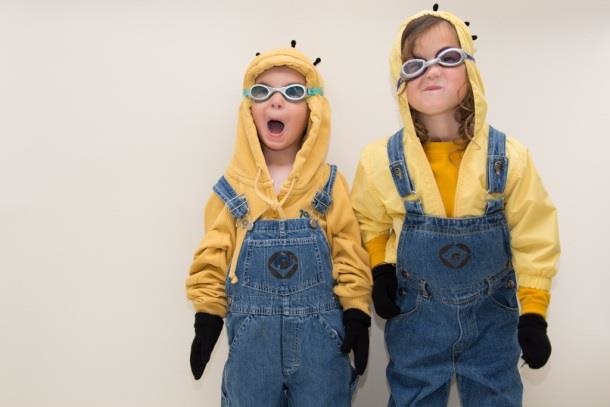 Halloween Costume Idea – Minions
Posted on September 21, 2015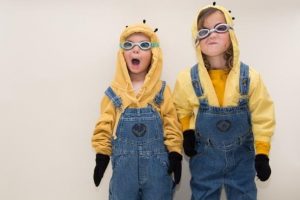 They're everywhere – little yellow ovals in overalls. You can't understand them.  With the exception of the occasional "banana,"  they speak their own language.  But you don't have to speak their language to become them for Halloween! A quick trip to one of our locations and you'll be "minionized" in no time!
Gather the following items in one of our stores:

Overalls
Long sleeve yellow shirt and yellow toboggan – OR-
Yellow hoodie
black shoes
Goggles (if you can't find "Minion" goggles, look for safety or swim goggles)

From the craft store you'll need:

Black pipe cleaners
Black felt
Hot glue or sewing kit
Silver permanent marker
This costume just takes a few seconds to craft:
Take the pipe cleaners and poke them through the toboggan or top of the hoodie, making sure you curl the ends up on the inside of the cap to prevent the pipe cleaners from poking into the head.
Print out the Gru symbol by searching on Google and trace it onto the black felt.  Cut it out and either hot glue or sew it onto the front middle of the overalls.
Finally, if needed, outline your goggles with the silver marker to make it look like a frame.
That's it!  You just went from normal everyday human to cute yellow minion in no time!
Need some more inspiration?  Check out these great costume ideas you can make in just one visit to a thrift store!
SAVE 10%
TODAY
by signing up for our e-newsletter!