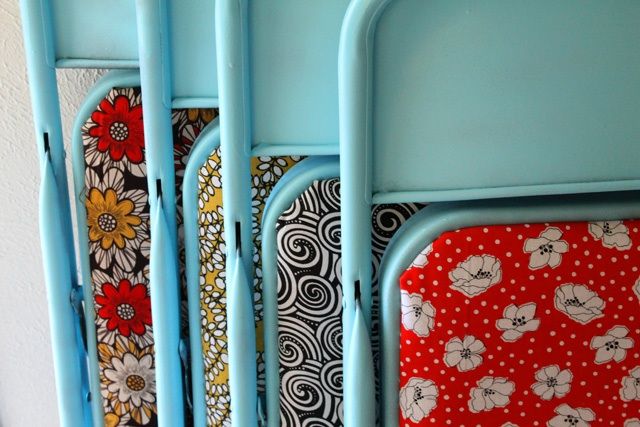 Upcycle Metal Folding Chairs
Posted on February 2, 2015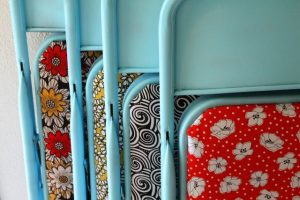 How many times have you been in one of our stores and seen a piece of slightly used furniture, probably from the 70s, and skipped over it? Well, if you do, you may be missing out on something that could add a lot of character to your home.
Take those old, cushioned folding chairs. Sure, they have a lot of wear and tear on them. However, with a few easy steps, you can turn these chairs into great seating for the porch or play room.
Materials Needed:
Spray Paint
Fabric (less than ½ yard)
Staple Gun
1" screws
Begin by removing the cushions from the chair and setting those aside. Spray paint the metal chairs in the color of your choice. Tip: It may take more than one coat to cover the chairs. Let the paint dry between each coat.
As your paint is drying, lay your fabric face down on a flat surface and place the cushion on top of it, face down. Gather the material around the cushion and staple it to the cushion. Trim the excess and reattached the cushions to the dried metal chair. And voila! You have a unique and gorgeous addition to your home. These are great for entertaining on the deck or for additional seating for an upcoming get together. You can even add fabric featuring your child's favorite character for his or her room or playroom. The possibilities are endless.
So, go ahead, buy that old, cushioned metal chair. You can imagine the potential in it already!
*Photo Credit: Punk Projects
SAVE 10%
TODAY
by signing up for our e-newsletter!