Giving Tuesday
Posted on November 17, 2015
Black Friday.  Cyber Monday.
GIVING TUESDAY!
America's Thrift Stores has joined #GivingTuesday, a global day of giving that harnesses the collective power of individuals, communities and organizations to encourage philanthropy and to celebrate generosity worldwide.  Occurring this year on December 1, #GivingTuesday is held annually on the Tuesday after Thanksgiving (in the U.S.) and the widely recognized shopping events Black Friday and Cyber Monday to kick-off the holiday giving season and inspire people to collaborate in improving their local communities and to give back in impactful ways to the charities and causes they support.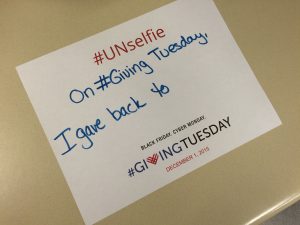 As you know, our goal is to donate $100 million to our ministry partners over the next 10 years.  We can't do that without your generosity.  This year on Tuesday, December 1, we are encouraging those to take an #UNselphie when they donate gently used clothing and hoursewares to our donation bins, manned trailer sites and stores.  Simply download the sign below and write the following sentence:
"On #GivingTuesday, I gave back to _______________________" (write the name of the ministry you're supporting in the blank)
Then, snap a picture with your sign at the place you brought your donation.  Share it on your social media with the hashtag #GivingTuesday and #UNselfie.  If you share it on Facebook, Instagram or Pinterest, please tag us (@americasthrift) so that we can share your generosity with others!
We're excited to participate in a day of giving!  After you've shopped and decorated, take some time to give back to our ministry partners and let's make a difference together.
Download your #UNselfie sign here.
SAVE 10%
TODAY
by signing up for our e-newsletter!